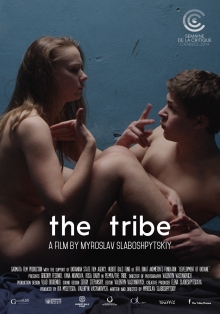 ФЕСТИВАЛИ И ПРЕМИИ:
---
-

Cannes Film Festival - Critic's Week Grand Prix: Grand Prix Nespresso, France 4 Award Visionary Award, grant Gan Foundation Support for Distribution
- Toronto International Film Festival (Canada) - official program
- International Film Festival in Karlovy Vary - special screening
-

Locarno Film Festival (Switzerland) - special screening
- San Sebastian International Film Festival (Spain) - official program
-

Andrei Tarkovsky "Mirror" Film Festival (Russia) - Grand Prix
- Golden Apricot Film Festival (Armenia) - Grand Prix and FIPRESCI prize
- Palic Film Festival (Serbia) - Grand Prix
- IFF in Motovun (Croatia) - Grand Prix
- Art Film Festival, Trencin (Slovakia) - Mayor Prize
THE TRIBE
C 11 Сентября 2014
SYNOPSIS
Deaf mute Sergey enters a specialized boarding school for deaf-and-dumb. In this new place, he needs to find his way through the hierarchy of the school's network dealing with crime and prostitution, the Tribe. By taking part of several robberies, he gets propelled higher into the organization. Then he meets one of the Chief's concubines Anna, and unwillingly breaks all the unwritten rules of the tribe.
ТРЕЙЛЕР
---
---
СКОРО В ПРОКАТЕ
---