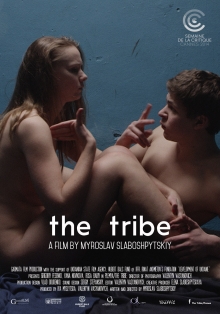 FESTIVALS:
---
-

Cannes Film Festival - Critic's Week Grand Prix: Grand Prix Nespresso, France 4 Award Visionary Award, grant Gan Foundation Support for Distribution
- Toronto International Film Festival (Canada) - official program
- International Film Festival in Karlovy Vary - special screening
-

Locarno Film Festival (Switzerland) - special screening
- San Sebastian International Film Festival (Spain) - official program
-

Andrei Tarkovsky "Mirror" Film Festival (Russia) - Grand Prix
- Golden Apricot Film Festival (Armenia) - Grand Prix and FIPRESCI prize
- Palic Film Festival (Serbia) - Grand Prix
- IFF in Motovun (Croatia) - Grand Prix
- Art Film Festival, Trencin (Slovakia) - Mayor Prize
THE TRIBE
ПЛЕМЯ
2014
Country: Ukraine
Length: 130 min
Director: Myroslav Slaboshpytskiy
Cast: Grigoriy Fesenko, Yana Novikova, Rosa Babiy, Alexander Dsiadevich, Yaroslav Biletskiy, Ivan Tishko, Alexander Osadchiy, Alexander Sidelnikov, Alexander Panivan
Scriptwriter: Myroslav Slaboshpytskiy
Director of photography: Valentyn Vasyanovych

SYNOPSIS
Deaf mute Sergey enters a special boarding school for deaf-and-dumb. In this new place, he needs to find his way through the hierarchy of the school community and the local criminal organization – the tribe - headed by the so-called King. By taking part in several robberies Sergey gets higher up of this criminal organization. Then he meets one of King's concubines Anna and unwillingly breaks the unwritten rules of the tribe.
TRAILER
---
---
COMING SOON
---