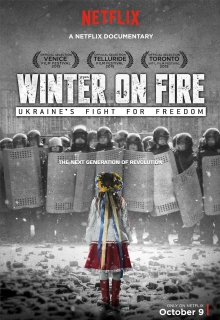 FESTIVALS:
---
– Nomination for the Best Documentary Feature, Academy Awards, 2016
– People's Choice Award, Toronto International Film Festival, 2015
– World premiere at the 72nd Venice Film Festival, 2015
Winter on Fire: Ukraine's Fight For Freedom
Зима в огнi
2016
Country: UK, Ukraine, USA, 2015
Length: 102 min.
Genre: documentary
Director: Evgen Afineevsky

Chronicling events that unfolded over 93 days in 2013 and 2014, the film witnesses the formation of a new civil rights movement in Ukraine. What started as peaceful student demonstrations supporting European integration morphed into a full-fledged violent revolution calling for the resignation of the nation's president. The film captures the remarkable mobilization of nearly a million citizens from across the country protesting the corrupt political regime that utilized extreme force against its own people.
Friday 1 April, 2016 - 21:00
TRAILER
Pictures
---


---
---