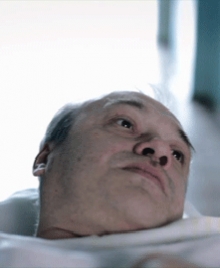 FESTIVALS:
---
- 3d Kinofest, New York, 2012
- "Short Film Corner", Cannes International Film Festival, 2012
HAMBURG
ГАМБУРГ
2012
Country: Ukraine
Length: 7 min.
Genre: drama
Director: Volodymyr Tykhyy
Cast: Taras Denysenko, Olga Artemenko, Gordiy-Mykhaylo Denisenko, Olga Turanska, Kostyantyn Zharkov
Scriptwriter: Ivan Tymshyn
Producer: Volodymyr Tykhyy, Denis Ivanov
Director of photography: Mykhailo Markov

SYNOPSIS
All his adult life Bohdan deamed about travelling and seeing the world. Ironically, his dream comes true just partially: it is Bohdan's kidney that is going abroad.
TRAILER
Pictures
---



---
---
COMING SOON
---