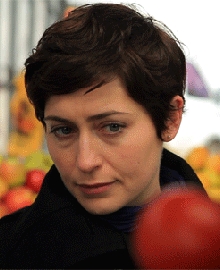 FESTIVALS:
---
- "Short Film Corner", Cannes International Film Festival, 2012
- 3d "Kinofest", New York, 2012
No GMO
БЕЗ ГМО
2012
Country: Ukraine
Length: 10 min.
Genre: thriller
Director: Larisa Artiugina
Cast: Oleksandr Alekseyev, Anastasiya Kasilova, Vitalina Bibliv

Young woman lost her husband in a tragic accident. To bury him, she chooses cremation, but she is late for the ceremony. A crematorium worker has already ground her husband's remains in the desintegrator and is putting the ashes into mortuary urn. However, some ashes do not get into the urn; with the trained gesture he puts a handful into a bag on wheels prepared beforehand. When the bag is full, the crematorium worker takes it home. There are tomatoes growing on his balcony that need fertilizing.
TRAILER
Pictures
---




---
---
FILM MATERIALS
---
---
COMING SOON
---