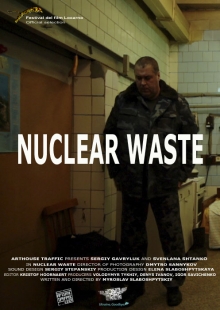 FESTIVALS:
---
- Silver Leopard at Locarno IFF (Switzerland)
- Grand-Prix at Kinoshok IFF (Anapa, Russia)
- Message To Men IFF Official Selection (St.Petersburg, Russia)
- 2in1 IFF, Non-Competition Program (Moscow, Russia)
- Nominated for the Best Ukrainian Film at Molodist IFF (Ukraine)
- Ecofest IFF (Romania)
- FIFE (France)
- Bilbao IFF (Spain)
NUCLEAR WASTE
ЯДЕРНІ ВІДХОДИ
2012
Country: Ukraine
Length: 23
Genre: Drama
Director: Myroslav Slaboshpitskyy
Cast: Serhiy Havryliuk, Svitlana Shtan'ko
Scriptwriter: Myroslav Slaboshpitskyy
Producer: Volodymyr Tykhyy, Denys Ivanov, Igor Savychenko
Director of photography: Dmytro Sannikov

He is a truck-driver at a radioactive wastes utilization plant in Chernobyl alienated area. She works at a radioactive decontamination laundry. Their work and their life are dictated by one unchangeable rhythm with clockwork precision. But what sets this mechanism in motion, day by day?
TRAILER
Pictures
---









---
---
RELATED MATERIALS: