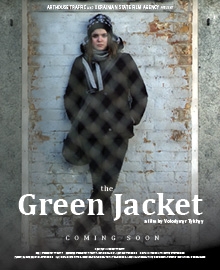 FESTIVALS:
---
- Official Selection - "New Directors" section at the 61-rst San Sebastian International Film Festival (2013)
The Green Jacket
Zelena Kofta
2013
Country: Ukraine
Length: 104 min.
Genre: Psychological thriller
Director: Volodymyr Tykhyy
Cast: Oleksandra Pet`ko, Yuriy Odynokyy, Lesia Kalyns`ka, Borys Gavrylenko

SYNOPSIS
A girl fourteen years old goes for a walk with her younger brother to a courtyard. While she flirts with her peer, the brother disappears.
A month later, the girl meets by chance the stranger, who she saw next to her brother when he disappeared. The girl is sure that it was him, who committed the crime. But the suspect has an alibi and connections, and quite quickly it becomes clear that a punishment is unlikely to happen.
Feelings of guilt and powerlessness push the girl into a series of senseless actions. She seeks for revenge...
TRAILER
---
---
FILM MATERIALS
---
---
---
---
---
---
COMING SOON
---