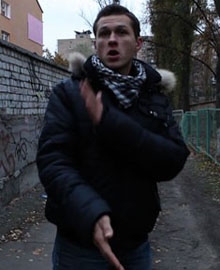 FESTIVALS:
---
- Berlin Film Festival Official selection
- FF600 Festival in Slovakia Official selection
Deafness
Glukhota
2010
Country: Ukraine
Length: 11'
Genre: short film
Director: Myroslav Slaboshpytskyy
Cast: Sergiy Havrylyuk, Dmytro Sokol, Oleksandr Fomichov, Oleksandr Semyshkur

10 minutes in the life of several deaf-and-dumb boarding school inmates are reconstructed in real time.
TRAILER
Pictures
---




---
---
COMING SOON
---

We Are Here We Are Close
Roman Balayan
2021
A sudden meeting between a surgeon and a mysterious girl turns their lives upside down and fills them with deep feelings. They become a meaning for each other and are ready to fight for their happiness against the whole world.

F***ers. Arabesques
2010
New, NO-budgetary, arthouse Ukrainian cinema. A cycle of short films of different genres is dedicated to epidemic of sociocultural nihilism in the Ukrainian society.